"ENGINEERING WITH FABRICATION IN MIND" - HARVEY'S ENGINEERING
harvey's engineering
Harvey's is focused on collaboratively working with architects, engineers, and contractors to ensure the accurate and timely delivery and installation of our engineering services. Through a tried and tested process, the Engineering Division utilizes a Building Information Modeling approach with fabrication in mind. By utilizing our construction experience, we design what is built, eliminating costly rework in the field. Harvey's unique structure allows us to operate differently than a traditional engineering firm. When you see our drawings, you see the difference.
As a technological leader in the industry, Harvey's has been at the forefront of Virtual Design and Construction (VDC) by contributing in local user groups and national conventions. Our commitment to remaining on the leading edge of construction technology has meant that we have been investing in and implementing many of the BIM concepts since before the term was even created, including:
Developing 3D models and drawing the complete mechanical systems

Automating and interpreting collision detection before construction through digital reconstruction and as-built conditions

Performing 3D "virtual walkthroughs" through point cloud's with digital fabricated models

Automating project material costs and orders for delivery to site

Maximizing pre-fabrication opportunities for plumbing, hvac, and hydronics

Electronically sharing construction documents, including submittals and O&M data with design team

Reducing RFIs, field changes, and change orders

Creating (and adhering to) detailed schedules for optimal installations and precision

Providing data-rich, 3D as-built drawings, for building life-cycle maintenance and owner documentation
We incorporate these concepts into our everyday work, and on every project. You will realize the savings in cost, time and reduced errors.
ENGINEERED PREFABRICATED MECHANICAL ROOM PODS
industry leaders in laser scanning and innovating new technologies
WAREHOUSE LASER SCAN -> DUCT DESIGN -> FABRICaTION
laser scan examples: Small residential & high end Residential
laser scan mechanical & plumbing integration examples
REVIZTO POINT CLOUD TO FIELD COMMUNICATION EXAMPLE
Virtual Design & Construction Coordination Examples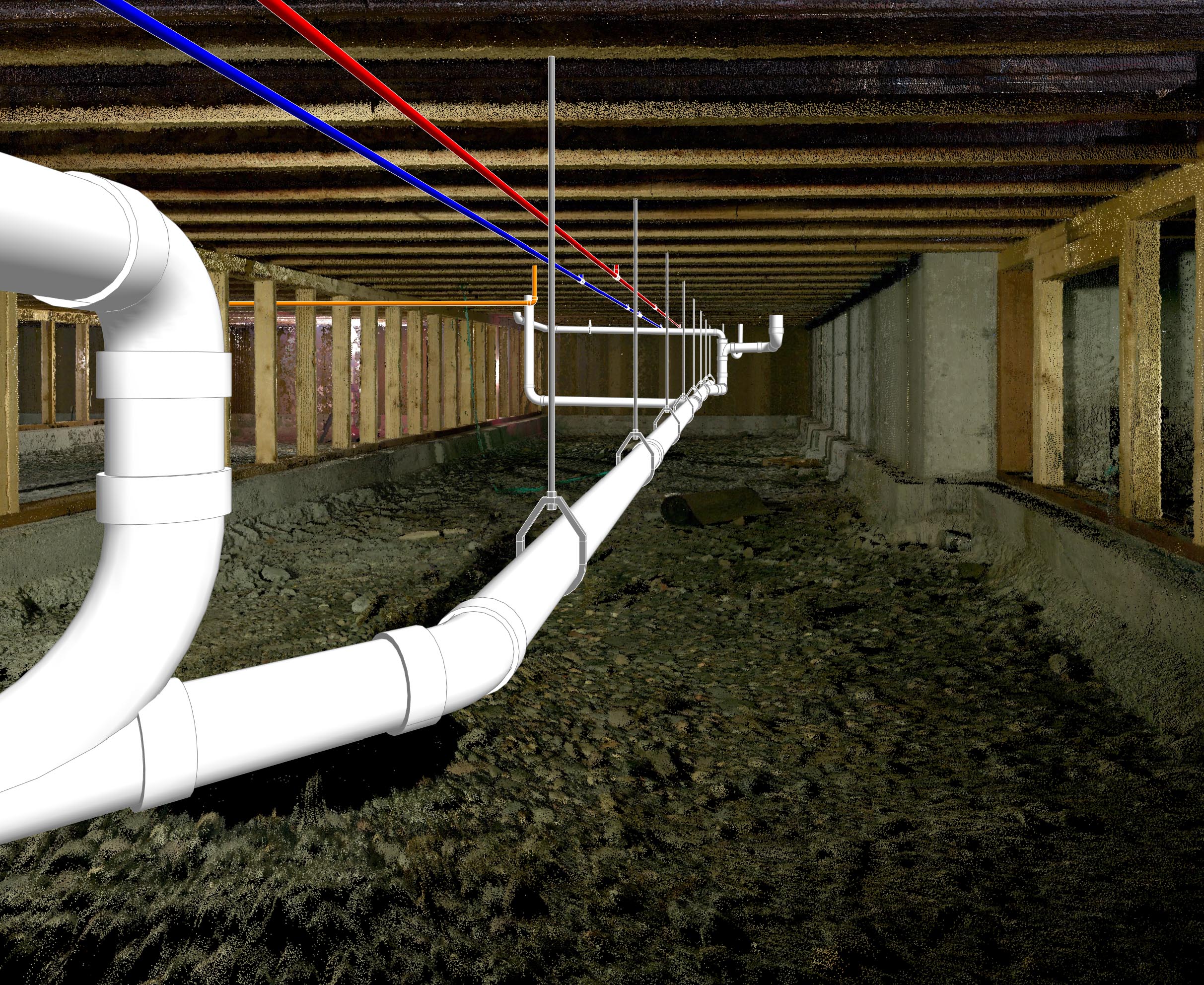 INTEGRATED PROJECT DELIVERY
Autodesk's definition of Integrated Project Delivery:
Integrated Project Delivery, or IPD, is a project delivery method distinguished by early collaboration between cross-functional teams through all phases of design, fabrication, and construction. By entering this type of contractual agreement, teams are able to collaboratively harnesses the talents and insights of all participants to optimize project results, increase value to the owner, reduce waste, and maximize efficiency through all phases of design, fabrication, and construction. The entire process, from concept to construction, is defined by early substantive engagement by all key stakeholders.
What are the benefits of IPD?
An IPD project improves project outcomes by changing the way decisions are made, goal are accomplished, and responsibilities are shared. The hallmarks of an IPD project are shared objectives, consensus in decision making, and the use of BIM, or building information modeling.
The American Institute of Architecture created a comprehensive guide to IPD, outlining contract types, processes, and roles.
Read more of this process on Autodesk's website and why we swear by it at Harvey's:
https://www.autodesk.com/solutions/collaborative-project-delivery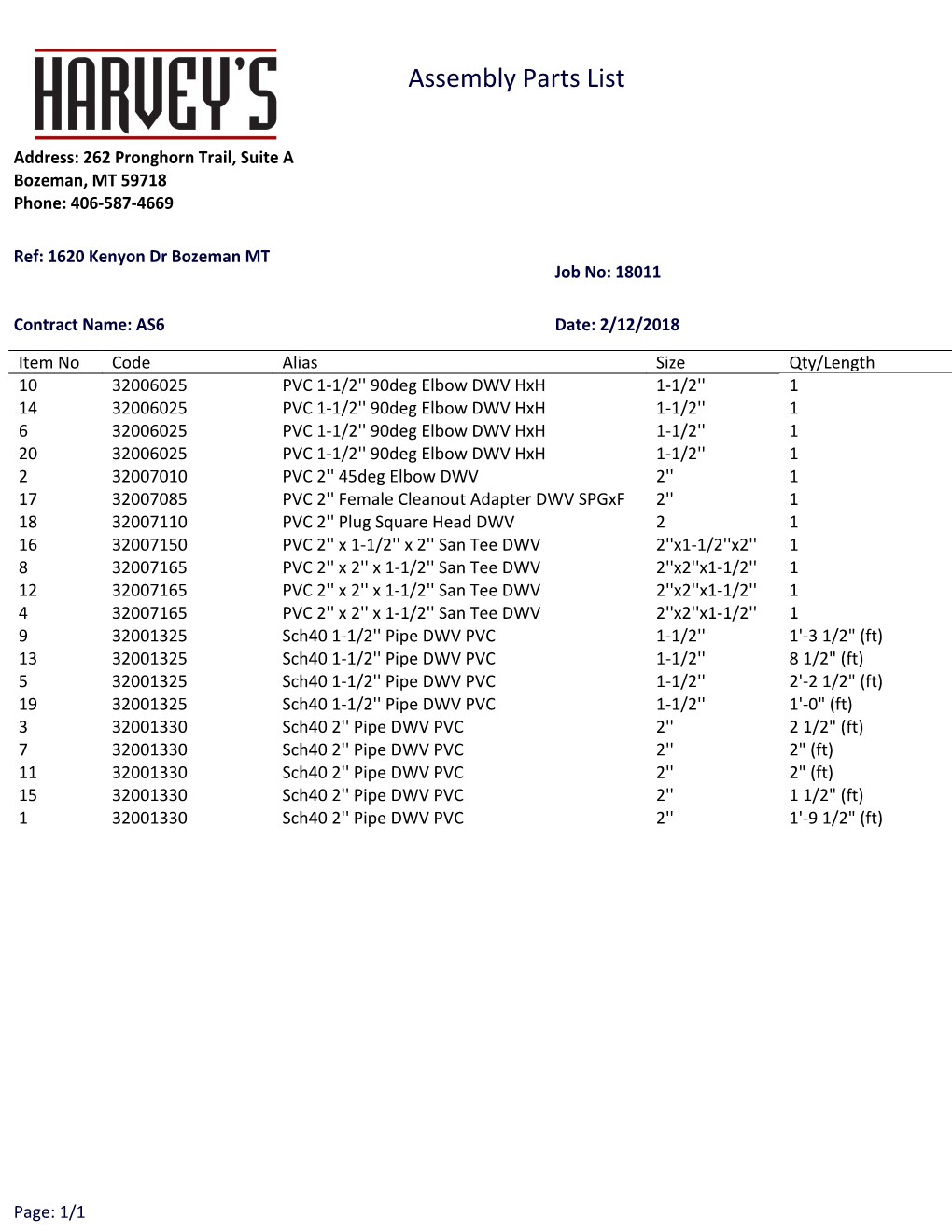 Fabrication
Prefabrication is the heart of Harvey's beliefs on mechanical and plumbing contracting. Working closely with our Engineering division and their design software capabilities, we ensure that our installations fit precisely and are fabricated with the highest level of quality and care. When schedules are fast, prefabrication allows our team to produce large quantities of product and assemblies offsite in our warehouses, most of the time prior to the building being ready for mechanical and plumbing installation.
Our state of the art fabrication facilities and technology includes:
Laser Scanning As-Built conditions

State of the art design lab, fabrication warehouses, and equipment.

Plumbing Fabrication Warehouse

HVAC Warehouse supplied by local suppliers for quicker installation.

Sheet Metal Fabrication Warehouse

Plasma Cutters, Sheet Metal Folders, Press Brakes, and Shears.

Welders
All fabrication operations are supervised by our full time division managers. With separate warehouses available for black pipe, copper, PVC and stainless steel, our fabrication shops can handle any project thrown at them, at any time.
more work we're proud of...
Harvey's H.V.A.C. Division has an internal database of components for all of our sheet metal cutting needs. The database is filled with thousands of flat patterns that ensure top notch precision and accuracy.
Underground Drainage, Waste, and Vent Fabrication
At Harvey's we strive to be the best at what we install. With our tried and tested approach we're focused on design to fabrication installations. It's important to us that the systems in the homes we install are well thought out and functional.
THE PITT TRAINING FACILITY - FABRICATION
We overlaid our mechanical and plumbing systems to a Revit model supplied by the architect. Through direct coordination and collaboration we were able to effectively install our systems more efficiently and accurately.
Harvey's Hydronics focuses on optimizing our clients mechanical rooms with systems that organized efficiently.
Mechanical Room Layout & Coordination
Laser scanned as-built documentation for optimal mechanical design.
RAIN WATER CATCHMENT DESIGN
Let us design your next rain water catchment system.
Leica BLK360 Laser Scanning
Harvey's utilizes a tried and tested approach for laser scanning as built conditions for Revit/AutoCAD coordination and fabrication. The laser scanner allows for rapid documentation of all systems installed for documentation of all systems.
Plumbing Design for custom Tiny Homes. Provides a plumbing diagram of all systems for custom multiple layout configurations. The plumbing systems can be prefabricated off-site within the modules and transported to site for full design to fabrication installation.